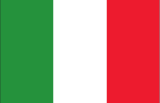 Italian Flag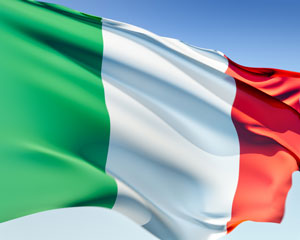 The Italian flag is based on the French tricolore, although the original Italian flag had horizontal bands. The first vertical tricolore was introduced in 1798, but was initially used only until 1802 before it was taken out of commission.

The vertical bands on the Italian flag are green, white, and red. While there is not much lore to explain why the color red was chosen, it's said that green was chosen because it was Napoleon's favorite color. The white that separates the green and red was chosen simply to differentiate the Italian flag from that of Mexico.

While the Italian flag was removed following the fall of Napoleon, it was reintroduced in 1861, when the Kingdom of Italy was born. The original Italian tricolore featured the coat of arms from the House of Savoy, but this was removed and the current flag officially adopted in 1946, when the Italian monarchy ended.

Italy Country Profile
The country of Italy extends 500 miles into the Mediterranean Sea on its southern side, while its northern side is made up of Alps. Italy is home to 57.4 million people, its official language is Italian, and its capital is Rome. For currency, Italy has adopted the Euro.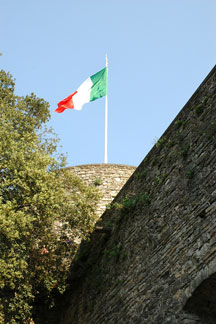 Italy enjoys a Mediterranean climate in the south, and a more temperate, four-season climate in the north. The south is known for hot, dry summers and mild winters, while the north is known for cool, wet winters with significant snowfall in the mountain region.
The population in Italy is made up almost entirely of Italian Roman Catholics, with very few additional ethnic groups. The extended family sits at the center of Italy's society, and frequently several generations live together in one home. Because of this, families often have access to more than one job, and most people own their homes outright. Italy has one of the lowest divorce rates in all of Europe, as well as one of the highest marriage rates. The healthcare and education systems are both state-run systems, and they are considered some of the best in the world.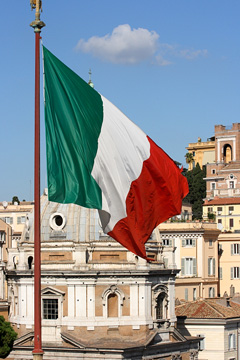 Italy's economy is supported by a sector made up of competitive small and medium-sized companies in the product design, household appliance, industrial design, and textiles industries. Tourism and agriculture also bolster the country's economy. Italy has very few natural resources, and is highly dependent on other countries for its energy needs.
Ever since Roman popes planned to make their cities as beautiful as possible to attract visitors, Italy has been a significant tourist mecca. As a matter of fact, Italy welcomes almost 40 million tourists per year. The tourist industry contributes significantly to Italy's economy, and employs more than a million people.
Northern Italy sees the most visitors, particularly cities such as Florence, Rome, and Venice. The northern lakes are also a popular spot, as are the beach resorts. Other people visit Italy to ski, experience its architecture and art, and also to experience its historical and beautiful Roman ruins.
Related Italian Links
Italy Facts - information about Italy and its flag.
Government of Italy - official Italian Government website (in Italian).
Italy Map - Italy maps, geography, and tourism.
Italy News - news articles and facts about Italy.
---
Italian-Flag.org Copyright © 2008-2023 Zeducorp.
All rights reserved.
About us
.
Italian Flag - Flag of Italy